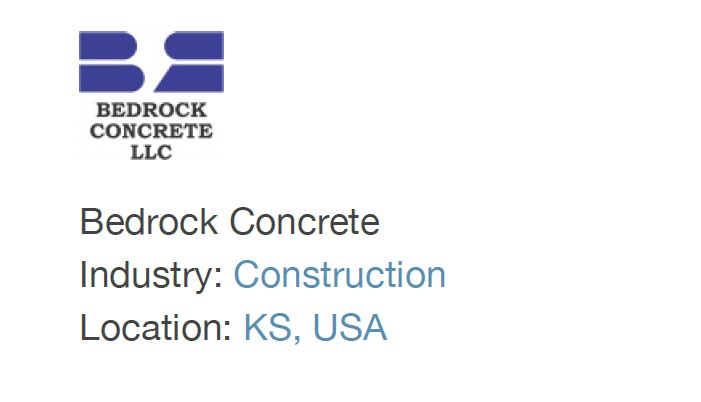 Customer overview
Bedrock Concrete is a commercial concrete contractor, servicing the wider 200-mile area in Kansas, Missouri, Nebraska, & Oklahoma. Along with its sister hauling company - Blue Lion Express, the company operates off-road equipment and 14 hauling trucks, producing and delivering everything from decorative to large scale concrete work.
Challenge
Bedrock was a World Kinect customer, utilizing our fleet fuel cards and sourcing bulk fuel delivery for their smaller 550-gallon tank. As the business was expanding and moving to a new facility, Bedrock needed a larger-scale fuel provider for their new 12,000 US gallon diesel tank and started interviewing multiple suppliers "to check all the options".
World Kinect Solution
World Kinect won the competitive review process based on our proven record of service. "We came back to World Kinect because we knew what we were going to get - a good price, good service, good quality, and we don't have to worry about it".

•   World Kinect delivers to Bedrock Concrete ~7,200 US gallons of product every week to service 10,000 USG on-road diesel and 2,000 USG off-road diesel combination tank, 550 USG unleaded tank, and a 550 USG DEF tank.
•    With two pump lanes in the new large tank, two Bedrock trucks can be fueling at the same time at 35 gallons per minute, making the onsite fueling process much quicker for drivers and improving efficiencies. Switching to a larger bulk tank also reduced labor costs as drivers can do more driving, whereas before each driver was spending "half an hour every day at the gas station, throwing money down the drain".
•    To improve fuel efficiency and minimize engine issues, World Kinect provides seasonal fuel blends like anti-jelling additives for the wintertime.
•    World Kinect also maintains Bedrock's tanks to help keep them clean, reducing bacteria and water issues.
•    Bedrock continues to keep World Kinect fuel cards in every truck as a "fail-safe system" to prevent drivers from getting stranded offsite without fuel.
Business Impact
One partner – World Kinect – provides reliable bulk delivery supply, DEF, fleet cards, and tank maintenance – all with consolidated reporting, simplifying Bedrock's business operations.

"Fuel is the lifeblood of our fleet, is way more important than most people realize, and I don't just let anybody onto the property to deliver it. I don't have to let World Kinect drivers in the gate - I give them the key. I know that they're going to be responsible. My favorite part of working with World Kinect is the ease. It's one of the easiest things that we do here is order fuel, which is a large purchase. Every time we order 12,000 gallons of fuel, that's a lot of money, so I don't just trust any company with delivering that amount of fuel."
JOHN RHODES, OWNER,   
BEDROCK CONCRETE, USA