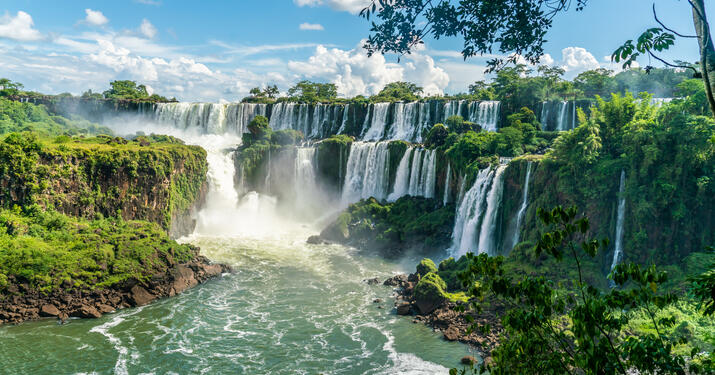 Carbon Offset Solution
A carbon offset represents a reduction of GHG emissions anywhere in the world that compensates for emissions produced elsewhere. Whether driven by voluntary sustainability goals or to comply with regulations, we can tailor a custom Carbon Offset solution.
What is a carbon offset?
A carbon offset represents one ton of carbon emissions or of a greenhouse gas equivalent that has been avoided in the atmosphere. It can be used to offset an emission that happens anywhere in the world. Carbon offsetting is a solution that can easily be deployed to help offset your current emissions. Leverage our team of experts who have been active in the voluntary carbon market since 2005 to provide you with support and guidance in this complex market. Increasingly, customers demand that companies they do business with are carbon neutral - we can help.
How can I comply with CORSIA?
CORSIA - Carbon Offsetting Reduction Scheme for International Aviation is a compliance program to reduce emissions within the global airline sector. Carbon offsets will be part of the solution for airlines to meet their compliance needs. For airlines to meet compliance obligations they can either use carbon offsets or sustainable aviation fuel (SAF). Ensure that the offsets you source are credible and meet the criteria of the compliance program by working with our experts. We have a supply of high-quality carbon offsets that meet the technology and vintage criteria for CORSIA.
Are You in the Shipping Business?
Go beyond your own carbon footprint and give your customers the opportunity to offset their Scope 3 emissions. More than ever, companies are asking for Scope 3 emissions (supply chain) to be more transparent so that they can better report and offset their own carbon emissions. These companies are your customers.
Carbon offsetting programs can allow for any one of these to be offset:
Specific Routes

 

Emissions from specific vehicles/vessels

Your Fuel Purchases
How Does Carbon Offsets Work?
We purchase Carbon Offsets and permanently retire them on a 3rd party registry on behalf of your company and its customers. These Carbon Offsets are assigned serial numbers that are shown on the registry and each of your customers can see the specific offsets they purchased.
How can I reduce my Scope 1 and Scope 3 carbon emissions?
| | |
| --- | --- |
| Any individual or business can "offset" their carbon footprint by funding projects around the world that reduce emissions. World Kinect Energy Services only offers Gold Standard, and VCS certified carbon offsets from projects with tangible real-world benefits and additionally. Carbon offsets are a tool that businesses can use to claim carbon neutrality and reduce their overall emissions. | |
Why World Kinect Energy Services?
Our carbon expert team carefully assesses each project's robustness and ability to deliver socio-economic and environmental benefits based on their contribution to the UN Sustainable Development Goals. The global carbon offset market is complex - our approach is flexible and consultative, not transactional. Gain access to carbon offset projects across the globe and receive customized sourcing solutions including:
• Project technologies (e.g. wind, solar, forestry etc.),
• Certification schemes (Gold Standard, VCS, and CCBA)
• Vintages
• Geographic Locations Gain an end-to-end, full-service solution for your carbon needs, including project sourcing, trading, delivery, and retirement of certificates with communication materials to fit your company's messaging needs.
Forests cover nearly 31 per cent of our planet's land area and are instrumental in removing pollution from theatmosphere.