Carbon offsetting is a method of balancing the impact of the unavoidable emissions most businesses produce. A carbon offset contributes to projects that reduce greenhouse gas emissions to compensate for those made elsewhere. 

We can support you with a range of carbon offset solutions. Whether you want a simple way to counteract your fuel's emissions, or a tailored approach to reach specific targets, we can help. Find out more about our customized carbon offsetting services for standalone purchases.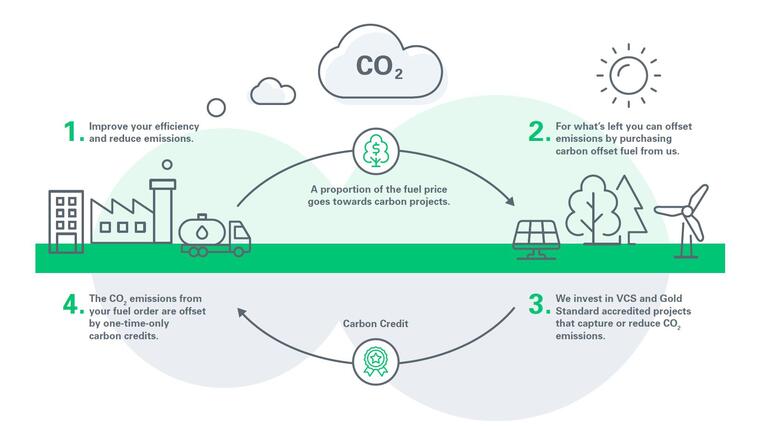 Carbon Offset Fuel 
Our Carbon Offset Fuel combines the strength of our liquid fuel supply solutions, with our carbon offsetting expertise to provide a simple and quick way to lower the impact of your fuel use. When you buy Carbon Offset Fuel, a proportion of the price you pay to fund global carbon projects that counteract your order's emissions. 
You can choose to offset each fuel purchase you make through World Kinect Energy Services by simply switching to Carbon Offset Fuel when you place an order or asking our sales advisors to change your order for you. 
By opting for Carbon Offset Fuel, your business benefits by lowering your carbon footprint and helping to fund global carbon projects that support key UN Sustainable Development Goals – all without needing to implement internal initiatives or switch fuels. 
If you would like to place an order for carbon offset fuel, please get in touch. You can also click below if you have a specific inquiry.
Why should you offset carbon emissions?
All liquid fuels release greenhouse gases (including CO₂ and NOx) into the atmosphere as part of the combustion process. CO₂ equivalent (CO₂E) is a metric that can be used to measure the net impact of all liquid fuel types. It can convert the net impact of all these gases into an equivalent amount of carbon dioxide with the same global warming potential. 

We understand that it is not realistic or necessarily possible for all companies to reduce emissions. That is why our carbon offsets are an excellent way to continue reducing your carbon footprint and environmental impact. It also helps organizations to:
Have an immediate impact on the transition towards Net Zero
Meet increasing customer and investor demand for companies to take action to address their carbon footprint
Prepare for regulatory change to ensure products and services remain viable
Show climate leadership with marketable carbon reduction efforts 
We have also made sure choosing Carbon Offset Fuel is simple for our clients. You can:
Benefit from a single vendor relationship
Avoid additional upfront fees 
Keep using your existing systems, machinery and processes
Support independently verified carbon offset projects around the world